Manchester United vs Manchester City result: Anthony Martial and Scott McTominay secure spectacular derby win as Ole Gunnar Solskjaer works magic again
As Manchester United celebrate the first league double over their neighbours of the Sir Alex Ferguson era, Manchester City must come to terms with living next door to their bogey team. The late-season resurgence of Ole Gunnar Solskjaer's side continued apace with their third win over their cross-town rivals and arguably the best performance of his managerial spell to date.
United took three points with two unanswered goals: one crafted from genius, the other stupidity. Anthony Martial's first-half breakthrough was made possible by an inspired free-kick routine from the excellent Bruno Fernandes, while a wayward throw by the out-of-position Ederson in the final minute of stoppage time led to Scott McTominay's 35-yard last-minute clincher.
City dominated possession but – unlike in other recent derby defeats – were decidedly and indisputably second-best. Once again, their sophisticated play had no answer for Solskjaer's stripped-back counter-attacking approach. Their defence of the Premier League title ended long ago but this defeat saw the champions' crown slip further from their head. Liverpool now require just two wins to end their 30-year wait.
Download the new Independent Premium app
Sharing the full story, not just the headlines
Pep Guardiola was predictably positive in his assessment of City's performance, even if Bernardo Silva admitted it was unacceptable. "I do not agree with Bernardo," his manager said. Ederson, at fault on both United goals and unusually erratic, remains an "extraordinary 'keeper" in Guardiola's eyes. "Next time he is going to be better." In fairness, he could hardly have been much worse.
Solskjaer, meanwhile, has now recorded more derby wins than either David Moyes, Louis van Gaal or Jose Mourinho managed in less than a year of permanent employment. There are many questions and reservations about his management, particularly when it comes to playing less ambitious sides, but he has proved himself more than capable of producing these magnificent, memorable results.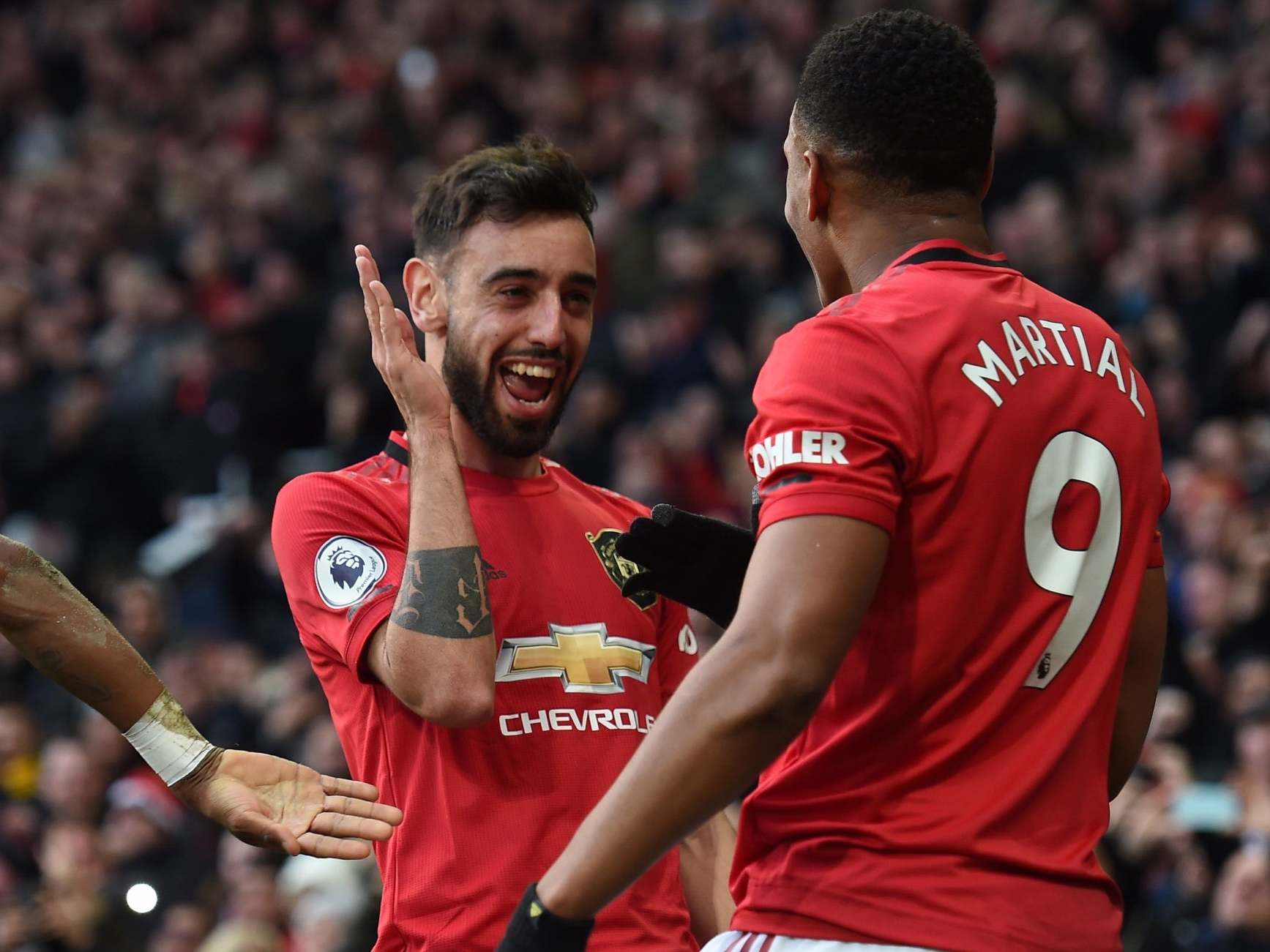 The difference Fernandes has made should not be understated. Even as City edged the initial stages, he was the conduit through which United's counter-attacking threat would flow and leading by example. Martial was chided by his new team-mate when he failed to react quickly enough to a misplaced Olekasandr Zinchenko pass, which nearly sent United in behind.
He would not make the same mistake twice. Right on the half-hour mark, a move that came straight off the training ground paid off when Fernandes brilliantly chipped a quick free-kick over the top of City's defensive line. This time Martial was alive, alert and quicker than his markers, slipping in and shooting through Ederson's hands at the near post. It was poor goalkeeping, but not Ederson's worst moment of the afternoon.
United deserved their lead, having responded well to City's early supremacy. The half's most contentious moment came at its end. Fred's name was written in referee Mike Dean's little black book after a tumble inside City's penalty area, yet replays showed clear contact from Nicolas Otamendi. It was certainly not a dive but whether it was a penalty was debatable. VAR saw no reason to intervene and Fred was left to walk a tightrope.
And at the start of the second half, the game came millimetres away from providing us with one of the most controversial moments of the season and again, VAR's limitations were laid bare. As Sergio Aguero broke through, assistant referee Darren Cann confidently flagged for offside. United's defence eased off, practically allowing Aguero to score, only for VAR to review Cann's offside decision.
Aguero was offside and Cann was vindicated but by a toenail, if that. Assistants are instructed to only flag immediately when absolutely sure that a player is beyond the last defender. There was no way Cann could be certain, but it seems that even in this era of video technology, the golden rule remains 'play to the whistle'.
United were nearly gifted a two-goal lead shortly after when Ederson miscontrolled Joao Cancelo's back pass and almost took it across his own goal-line. A forceful, last-ditch challenge on Martial spared his blushes. City were clearly anxious but still threatened. A dangerous attempt from distance by Phil Foden, previously an anonymous presence, forced David de Gea to tip over his own crossbar.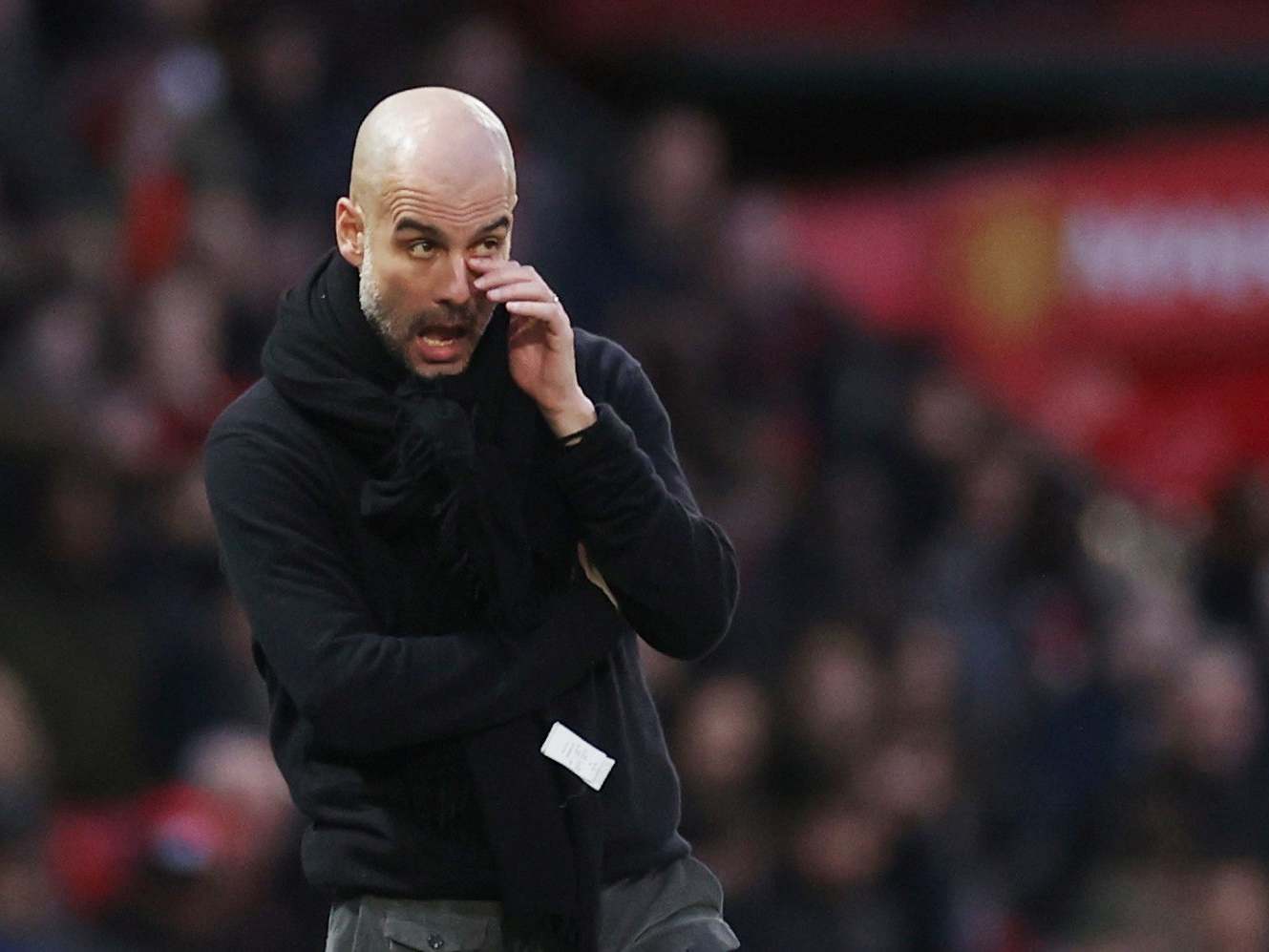 And yet a familiar story was playing out. Like during the reverse fixture at the Etihad in December, for all their possession, City struggled to attack with the same incision as their opponents. Their best chance of the afternoon fell to the out-of-sorts Raheem Sterling, who connected with Riyad Mahrez's low cross but somehow shanked a potential tap-in so wide it became a completed pass to Gabriel Jesus.
Sterling had not scored in 19 career appearances against United. The duck would not be broken today. Led by Fernandes and the much-improved Fred, United simply allowed nothing to break City's way and, in the dying moments, were gifted a second. Ederson's torrid afternoon took a turn for the worse with a rash and rushed attempt to launch a quick counter-attack. Stood way off his line, his throw to Benjamin Mendy was wildly inaccurate.
McTominay was the happy recipient of the loose ball and spotted the 'keeper was still some way off his goal-line. The United substitute saw an opportunity to end City's afternoon in embarrassment. He speculated from around 35 yards out, striking with enough power and purchase to render Ederson's attempt to run back into position futile. A spectacular goal would round off a spectacular win, perhaps the finest of Solskjaer's tenure.
Source: Read Full Article